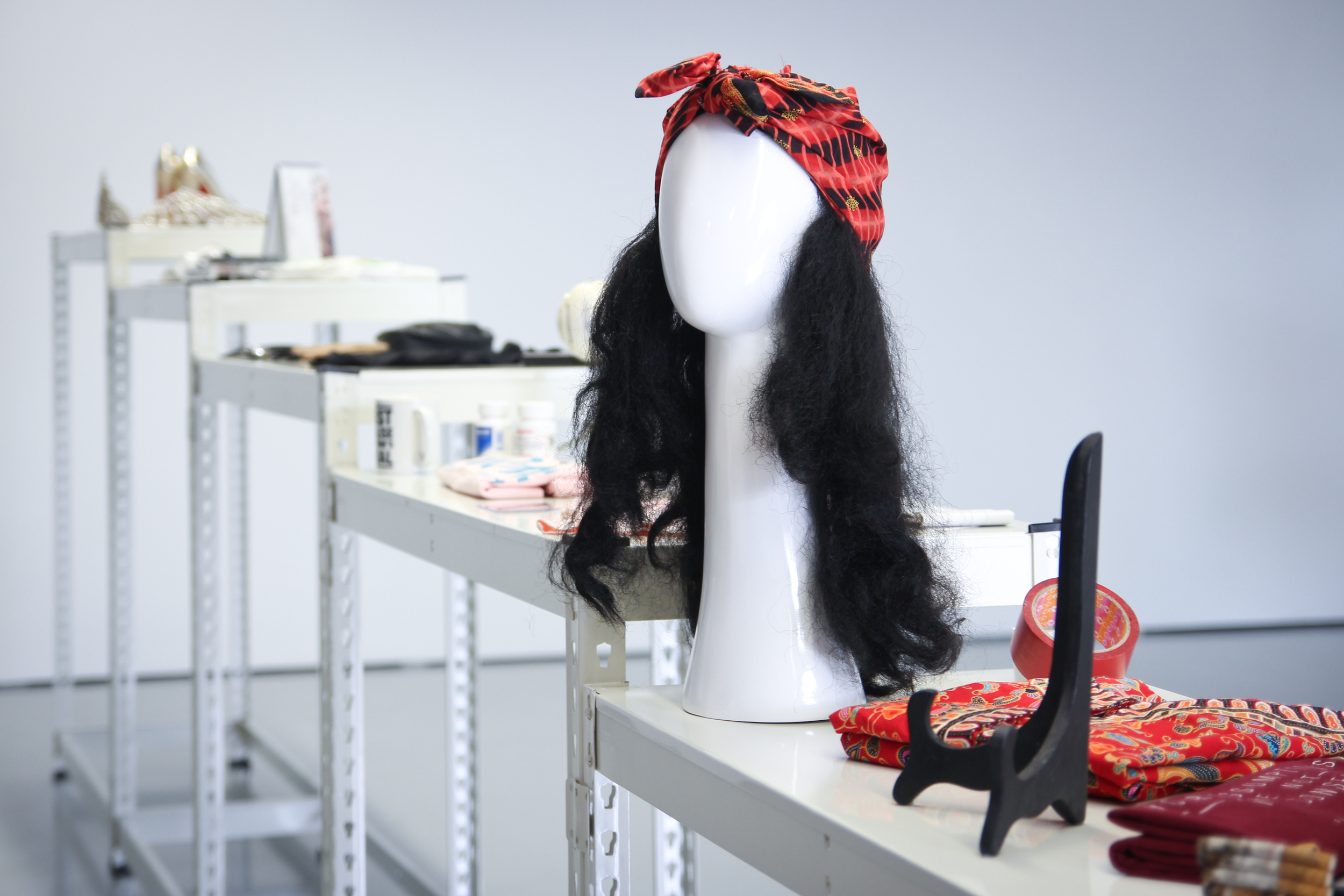 Queer Objects: an archive for the future (2016) - Installation
Opened on 12 February, 2016
Exhibition from 13 February to 13 April, 2016
part of Fault-lines: Disparate and Desperate Intimacies
at Earl Lu Gallery, Institute of Contemporary Arts, Singapore
1 McNally Street, Singapore 187940
The year is 2065, the nation is celebrating SG100. Section 377A of the penal code has been repealed. The first transgender member of parliament was elected to represent the Aljunied constituency in the last General Elections. The Ministry of Human Rights (MHR) and the Community Archive (CA) are organising an exhibition of objects from a time capsule buried twenty-five years ago. This is a selection of eighty-one objects from that time capsule.
Queer Objects: an archive for the future was an extension of Lecture, This Way (2015), a project that included the documentation of objects from the Australian Lesbian and Gay Archive. Lecture, This Way was completed for an artist residency at the Victorian College of the Arts, Melbourne, Australia. After returning to Singapore, Zihan embarked on this project to assemble objects that will be representative of a hypothetical Singaporean queer archive.
In the months preceding the exhibition opening, Zihan reached out to various members within the queer community. These included artists, theatre companies, queer-friendly faith groups, civil society organisations and personal friends. During the collection process, he encouraged the inclusion of objects that each contributor will associate with their journey of queer identification. Zihan eventually shortlisted a selection that showcased the spectrum of various queer experiences.
Through this exercise, the artist assembled a collection of 81 objects that vary from items of personal significance to memorabilia from events and organisations. He displayed them as part of Fault-lines: Disparate and Desperate Intimacies on a nine-sectioned archival shelving unit without specific context or attribution. On the day of the exhibition opening, the presenting institute requested for the removal of two of these objects from public display, citing concerns over Section 292 1(a) of the Penal Code.
292 1(a) - Whoever sells, lets to hire, distributes, transmits by electronic means, publicly exhibits or in any manner puts into circulation, or for purposes of sale, hire, distribution, transmission, public exhibition or circulation, makes, produces, or has in his possession any obscene book, pamphlet, paper, drawing, painting, representation or figure, or any other obscene object whatsoever;
After negotiation, the two objects were replaced with black vinyl stickers that represented their outline. Documentation of these 79 objects, along with the outline of two objects that were withdrawn from the display are represented below. The gesture of withdrawal was also reflected on the exhibition room sheet.
Note: The exhibition proposal for Queer Objects: an archive for the future included an exercise that involved the rotation of new contributions into the display over the duration of the exhibition. After the withdrawal incident, an agreement was reached with the institution to discontinue this exercise.
With support from:
Action for AIDS Singapore, Alfian Sa'at, Boo Junfeng, Leon Cheo, Kenneth Chia, Olivia Chiong, Chiu Chien-Seen, Bryan Choong, June Chua, Shawn Chua Ming Ren, Becca D'Bus, Tania De Rozario, Nicholas Deroose, Eztelle, Free Community Church, Guo Jie Si, Ivan Heng, Russell Heng, Darren Ho, Sun Koh, Lan Gen Bah, Eileena Lee, Lee Mun Wai, Jereh Leong, Joena Shivani, Leow Yangfa, Casey Lim, Atiq Lukman, Alex Neo, Ng Yi-Sheng, Irene Oh, Oogachaga Counselling and Support, Pelangi Pride Centre, Phitthaya Phaefuang, Pink Dot SG, Alan Seah, Jerry Siah, Miak Siew, Avin Tan, Jolene Tan, Kathleen Elizabeth Tan, Luke Tan, Roy Tan, The Necessary Stage, The T Project, TheatreWorks Singapore, Tracy, W!ld Rice, Jason Wee, Jason Wong, Lydia Wong, Ming Wong, Bjorn Yeo, Sammi Zhen, Darius Zheng among others.